117 Cute Best Friendship Quotes For Your Best Friend
Short friendship quotes celebrating your best friends "A good friend knows all your best stories, but a best friend has lived them with you. True friendship quotes "A true friend is someone who thinks that you are a good egg even though he knows that you are slightly cracked." "there's nothing like a really loyal, dependable, good friend.
Friendship quotes and sayings "It's not that diamonds are a girl's best friend, but it's your best friends who are your diamonds. Friendship quotes funny to dedicate to your one and the only bestie "Many people will walk in and out of your life, but only true friends leave footprints in your heart." A relationship with a best friend is like sugarcane… You can crush it, shred it, grind it, squeeze it and it's still sweet.
Cute friendship quotes "A best friend is someone who makes you laugh even when you think you'll never smile again." Inspiring friendship quotes on best friends "Friends are like walls, sometimes you lean on them and sometimes it's good just knowing they're there."
Best Friendship Quotes
Best inspirational friendship quotes about life with best friends "In life have a friend that is like a mirror and shadow; mirror doesn't lie and shadow never leaves." 117 beautiful friendship quotes "Friendship is the comfort of knowing that even when you feel alone, you aren't."
1. "I used to offer anyone friendship. I no longer do so. I'm friendly to all, friends with few. I learned the value of time. Time once spent can't be regained. I value my time & value myself. Friendship is reserved for those who steward my time & heart well as I do theirs. Quality always trumps quantity."
2. "Don't sweat the small stuff, in the end, it's all small stuff"
3. "Best friends to be best of friends, is a true gift, to share things, to care and uplift. In good times and bad, the bond will endure, whether happy or sad, the love will be pure. True friendship spans distance, none is too vast. True friendship spans time, forever it will last. Whether living close together or being far apart, your friend is with you, in your mind and your heart."
4. "Bless you my friend for all that you do. For all the things that you say, and your very kind way. Being your friend is a special treasure, sharing with you is my pleasure."
5. "Never get tired of doing little things for others. Sometimes those little things occupy the biggest part of their hearts."
6. "Friendship day poem the best of friends can change a frown, Into a smile, when you feel down. The best of friends, will understand, your little trials, and lend a hand. The best of friends Will always share, Your secret dreams, because they care. The best of friends, Worth more than gold, Give all the love, a heart can hold. Happy friendship day"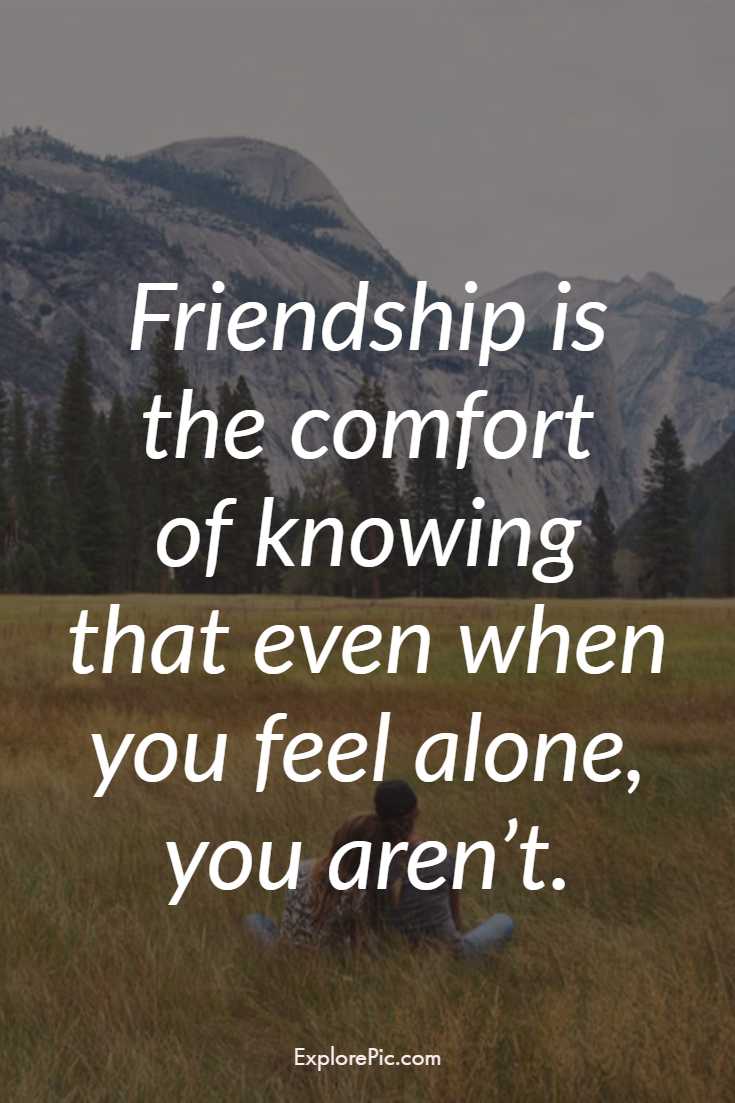 7. "Our hearts still ache in sadness, And secret tears still flow, what it meant to lose you, no one will ever know"
8. "For my friend, we talk a lot, laugh a lot and share a lot… no wonder your friendship means such a lot to me."
9. "One of the greatest gifts you can give someone is thanking them for being part of your life."
10. "If ever there is a tomorrow when we're not together there is something you must always remember you are braver than you believe Stronger than you seem and smarter than you think but the most important thing is even if we are apart I'll always be with you"
11. "Friends are angels that come from above. Sent down from God for you to love. So if you are sad, and don't know what to do. Just remember that I care for you!"
12. "I don't need a special day to bring you to mind, the days I do not think of you are very hard to find. Each morning when I awake I know that you are gone, and no one knows the heartache as I try to carry on. My heart still aches with sadness and secret tears still flow, what it meant to lose you, no one will ever know. My thoughts are always with you, your places no one can fill. In life I loved you dearly, In death, I love you still."
13. "A letter from heaven when tomorrow starts without me, and I'm not here to see if the sun should rise and find your eyes, filled with tears for me. I wish so much you wouldn't cry, the way you did today while thinking of the many things, we didn't get to say. I know how much you love me, as much as I love you, and each time you think of me, I know you'll miss me too. When tomorrow starts without me, don't think we're far apart, for every time you think of me, I'm right there in your heart"
14. "A true friend is someone who sees the pain in your eyes while everyone else believes the smile on your face"
15. "Friendship poem oh what joy it is to have friends like you for giving me strength the way you do for lifting me when I'm feeling down and putting a smile on my face when I'm wearing a frown thanks for being there and helping me grow your friendship means a lot this I'd like you to know"
16. "Thank you thanks for always listening to me, supporting me, and encouraging me. You're a true friend, and I want you to know how much I love and appreciate you. You're the best!"
17. "Friendship is giving someone a portion of your heart. Friendship is thinking of them when you're close or far apart. Friendship is caring when they're glad and caring when they're blue. Friendship is sharing good and bad. As though it's part of you. Thank you for your friendship."
18. "The older I get the more I realize the importance of walking away from people and situations which threaten my peace of mind, self-respect, values & self-worth."
19. "The most wonderful places to be in the world are: In someone's thoughts. Someone's prayers. And in someone's heart."
True friendship quotes
Inspiring friendship quotes for your best friend "Real friends don't get offended when you insult them. They smile and call you something even more offensive." True friends sayings and true friends quote "Friendship isn't about who you've known the longest. It's about who walked into your life, said "I'm here for you" and proved it."
20. "Your truest friends are the people who don't walk out the door when life gets hard. They pour some coffee and pull up a chair."
21. "A birthday should be happy just perfect through and through especially when the day belongs to someone as special as you!"
22. "Having a soulmate is not always about love. You can find your soulmate in a friendship too."
23. "To my best friend we met when we were teens. We've been best friends for many years. You've always been there for me, through tears and fears you never forsake me you've been my loyal supporter, you're not just a friend but a sister. You always saw the best in me, even when I was too blind to see me. You've been a blessing in my life and I am grateful from up above. So on your special day, I pray, that God will grant you the desires of your heart."
24. "True friendship is hard to find. But i. I've found it. Thanks for your friendship"
25. "The most valuable gift you can receive is an honest friend."
26. "This is for you, my best friend. The one I can tell my soul to. Who can relate to me like no other? Who I can laugh with to no extent, who I can cry to when times are tough, who can help me with the problems of my life. Never have you turned your back on me or told me I wasn't good enough or let me down. I don't think you know what that means to me. You gave gone through so much pain and you still have time for me. And I love you for listening even when inside you are dying. And I look up to you because you are caring, strong, and beautiful. Even though you don't think you are. And I hope you know that I'm always here to listen to you laugh and cry and help in all the ways that I can. And I will try to be at least half the friend you are to me. I hope you know I would not be the person I am today, without you, my best friend."
27. "A friend is someone who knows the song in your heart and can sing it back to you when you have forgotten the words."
28. "Finding a loyal friend is as hard as finding a teardrop in the ocean! If you have them, cherish them!."
29. "Friend a friend is someone you love and who loves you, someone you respect and who respects you, someone whom you trust and who trusts you a friend is honest and makes you want to be honest, too. A friend is loyal. A friend is someone who is happy to spend time with you doing absolutely nothing at all, someone who doesn't mind driving you on stupid errands, who will get up at midnight just because you want to go on an adventure, and who doesn't have to talk to communicate with you. A friend is someone who not only doesn't care if you're ugly or boring, but doesn't even think about it, someone who forgives you no matter what you do, and someone who tries to help you even when they don't know-how. A friend is someone who tells you if you're being stupid, but who doesn't make you feel stupid. A friend is someone who would sacrifice their life and happiness for you. A friend is someone who will come with you when you have to do boring things like watch bad recitals, go to stuffy parties, or wait in boring lobbies. You don't even think about who are taking or who's listening in a conversation with a friend. A friend is someone for whom you're willing to change your opinions. A friend is someone you look forward to seeing and who looks forward to seeing you someone you like so much, it doesn't matter if you share interests or traits. A friend is someone you like so much, you start to like the things they like. A friend is a partner, not a leader or a follower."
30. "Thank you for being my friend"
31. "Dear God, Please keep my family, friends, and loved ones safe. Please watch over them always, and let good health, happiness, and good fortune befall them."
32. "Justin Bieber: "l have millions of fans and I am not even 20 yet" Minion: "l have billions of fans and I don't even exist"
33. "Always remember: You are braver than you believe Stronger than you seem & smarter than you think. One day I caught myself smiling for no reason, then I realized I was thinking of you. A friend is someone who reaches for your hand but touches your heart. Sending you sunshine, laughter & hugs. Please know that prayers & heartfelt sympathy are with you and your family. Words are never enough to thank you for all that you do. Good friends are like stars.. you don't always see them, but you know they're always there."
34. "We didn't realize we were making memories we just knew we were having fun."
35. "A true friend is hard to find. They are rare and one of a kind, I don't care if I have only a few. At least I have one of the best! – you!"
36. "Years from now, I hope we are still in each other's lives."
37. "A friend is someone who strengthens you with prayer blesses you with and encourages you with hope"
38. "Isn't it pathetic how we waste so much time on certain people and in the end they prove that they weren't even worth a second of it."
39. "A true friend is someone special who can stand inside your shoes, feel your joy and sadness, not judge or accuse. Someone you can sit with, not uttering a word, but knowing in your silence there is something to be heard. To have a friend as such as this is something very rare. Cherish this special friend with tender loving care."
40. "Friendship isn't about who you've known the longest. It's about who walked into your life and said "I'm here for you" and proved it."
41. "Besties! I got your back. You got mine, I'll help you out. Anytime! To see you hurt, to see you cry. It makes me weep and wanna die. And if you agree to never fight. It wouldn't matter, whos wrong or right. If a broken heart needs mending. I'll be right there, till the end. If your cheeks are wet, from drops of tears, don't worry, let go of your fears. Hand in hand, love is sent, we'll be besties… Till the end!!!!"
42. "No matter how educated, talented, rich or cool you believe you are, how you treat people ultimately tells all."
Cute friendship quotes
Short friend sayings and short friend quotes "The better part of one's life consists of one's friendships. Friendship, of itself a holy tie, is made more sacred by adversity. Friendship is always a sweet responsibility, never an opportunity. Friendship is a word the very sight of which in print makes the heart warm. Cute best friend quotes – short quotes about true friends "If there ever comes a day when we can't be together, keep me in your heart, I'll stay there forever."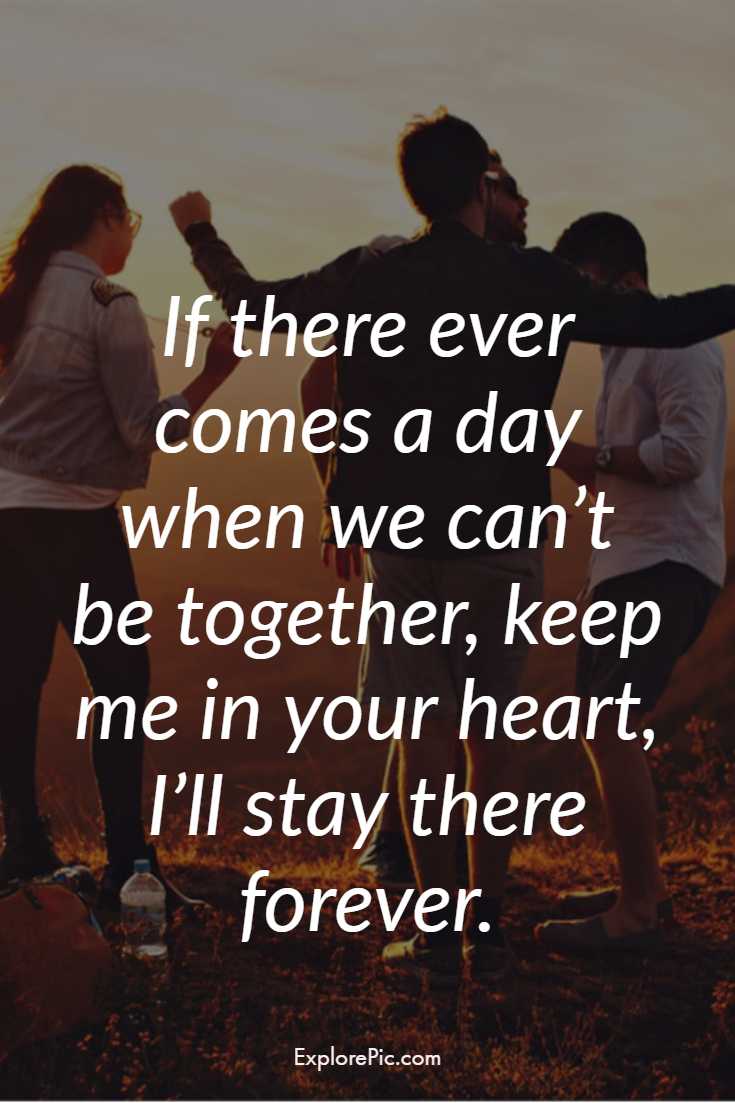 43. "What is a friend? A friend is someone who listens is there through thick and thin gives praise and understanding mends the hurts within a friend will pass no judgment accepts us as we are will lend an ear or shoulder whether near or far at times if we should stumble or somehow lose our way friends will be the stepping stone in showing us light of day they'll laugh with us when happy and cry with us when blue will love without conditions hearts, sincere and true what is a friend, the question the answer, very clear a friend is you, for certain my gift from god, I'm sure!!! Thank you for being in my life!!"
44. "Temporary and permanent most people in your life were only meant for dreams, and summer laughter. They stay till the wind changes, the tides turn or disappear with the first snow. And then some were forged to weather blizzards and pain with you. They were cast in iron, set in gold and never leave you to face anything alone. Know who those people are. And love them the way they deserve. Not everyone in your life is temporary. A few areas permanent as love is old."
45. "Friendship is like a rainbow, it is bright and full of color, there is no end in sight when you're with friends. Friends will always be there to help you, it may not be the advice they give, but it is the support given that counts. Money doesn't make a person rich, what makes a person richer or poorer are the kind of people they call a friend. And with the friends I have, I think that I am very very rich indeed. "
46. "A smile costs nothing, but gives much, it enriches those who receive, without making poorer those who give, it takes but a moment, yet the memory of it may last forever. A smile creates happiness in the home, fosters goodwill in business and is the sign of friendship. It brings rest to the weary. Cheer to the discouraged, sunshine to the sad, and is nature's best antidote to trouble. Yet a smile cannot be bought, begged, borrowed, or stolen; For it is of no value to anyone else unless it is given away, some people are too tired to smile at you. Give them one of yours no one needs a smile as much as those who have none to give."
47. "Thank you, friend, for all the things that mean so much to me for concern and understanding you give abundantly. Thanks for listening with your heart for cheering me when I'm blue for bringing out the best in me and just for being you."
48. "A strong friendship doesn't need daily conversations; Doesn't always need togetherness. As long as the friendship lives in the heart, true friends will never part."
49. "Sometimes when I need a miracle, I look into my daughter's eyes and realize I've already created one…"
50. "The most valuable gift you can receive is an honest friend. Good morning"
51. "A friend is someone who can see the truth and pain in you even when you are fooling everyone else."
52. "My best friend may not be my sister by blood, but she's my sister by heart."
53. "A friend like you there's lots of things with which I'm blessed, tho' my life's been both sunny and blue, but of all my blessings, this one's the best: To have a friend like you. In times of trouble, Friends will say, "Just ask… I'll help you through it." But you don't wait for me to ask, you just get up and you do it! And I can think of nothing in life that I could more wisely do Than know a friend, and be a friend, and love a friend… like you!"
54. "She knew that she was formed by god's hands, dreamed up in this heart, and placed in this world for a purpose"
55. "Special friend we all make friendships in this life, though many fades with time but, once in a while, it's special like our friendship, yours and mine. Your friendship is a special gift that I treasure every day and I hope you know I value it more than words can say."
56. "I wish you could be me for one day then maybe just maybe you could see what I see when I look at you maybe just maybe then you will realize I love you more than words will ever be able to describe better yet they haven't even made words to describe what you mean to me. When I see you I see my best friend I see the guy who loves me and continues to love me when I couldn't love myself I see my whole universe I see the reason for my smile my joy and my happiness. I see the most caring loving generous kindhearted selfless hardworking funny talented smart amazing wonderful kind protective loyal and the most incredible guy I know. I see my support system, my cheerleader, I see the one who is always here for me when nobody else is or better yet wants to but you're always there when I need a best friend or a shoulder to cry on and a laugh. I see the guy who makes me smile when all I want to do is cry. I see the way you light up when you talk about something your passionate about or when you talk about me… I see the way you smile when we're being total weirdos together I see the way you care for your family and I see the way you've made me a part of your family and the way you will kill to protect them and me. I see the way you would do anything to make someone happy. I see the way your gentle and caring with me but with other people you try to hide actually how gentle you are but it's ok your secret is safe with me lol I see the way you act around me and how protective you are over me and even if someone stares at me how you give them the death glare or the way you hold me when I'm cold. I see the way you love for me to baby you and the way you love to baby me. I see the way you love to spoil the hell out of me no matter how many times I say you don't have to and every time I do say that you just look and say but you're my princess and I want to. I see the way your hand fits perfectly in mine and the way your soo much taller than me and when you hug me you pick me up. I see the way you love me more than I could ever love myself and the way you never want me to change. I see the little things to like the way your favorite color is blue and every time I think about that I think of when you asked me what shade of blue and I said your eyes not meant to or the way or kinda shy or the way you still get nervous around me and even when you don't think I notice but I even realize when you stare at me and when I look at you you turn away and smile. If you could be me for one day you would realize how much I love you.."
57. "There's a point in every true friendship where friends stop being friends & become sisters."
58. "A friend is a treasure a friend is someone we turn to, when our spirits need a lift, a friend is someone we treasure, for true friendship is a gift. A friend is someone we laugh with, over little personal things, a friend is someone we're serious with, in facing whatever life brings. A friend is someone who fills our lives, with beauty and joy and grace. And makes the world that we live in a better and happier place!"
59. "Friendship is contagious. I've caught it a time or two. I caught it not long ago when I became friends with you. My day is very special whenever you get in touch. And I would like for you to know I appreciate it very much. We have so much in common, many things we can compare. To find a friend as nice as you are very rare. I choose these words carefully with love I want to send. This special poem is just for you, my very special friend."
60. "Though miles may lie between us, we are never far apart. For friendship doesn't count the miles, it's measured by the heart."
61. "A friend is someone we turn to when our spirits need a lift. A friend is someone we treasure, for friendship is a gift. A friend is someone who fills our lives with beauty, joy, and grace. A friend makes the world we live in a better and happier place. Thank you for being my friend."
62. "I'm grateful you're my friend to know that I have got a friend to turn to – when I'm blue, a friend who's always there for me in everything I do… It is such a source of comfort, such a blessing to be sure, it makes the problems that I face, much easier to endure. And when I'm feeling joyful… Taking everything in stride, it's uplifting to share laughter, with the friend who's by my side. Though words are never quite enough, the message that I send… Is that I feel truly privileged just to have as my friend!"
Short friendship quotes
Cute friendship quotes – short sayings about friendship "Friends are special, but my friends are more than that. My friends are funny, friendly, crazy, nuts, mental, daft, kind, caring. But most of all, They're mine!"
63. "Be around people that are good for your soul"
64. "Some people aren't loyal to you, they are loyal to their need of you. Once their need changes, so do their loyalty."
65. "Anyone can show up when you're happy. But the ones who stay by your side you're your heart falls apart, they are your true friends."
66. "I was raised to show respect. I was taught to knock before I open a door. Say hello when I enter a room. Say please and thank you, and to have respect for my elders. I'd let another person have my seat if they need it. Say 'yes sir' and 'no sir' and help others when they need me to, not stand on the sidelines and watch. Hold the door for the person behind me, say 'excuse me' when it's needed, and to love people for who they are and not for what I can get from them and most importantly, I was raised to treat people exactly how I would like to be treated by others. It's called respect."
67. "Just thinking about you and asking the Lord to shower you with His blessings today!"
68. "A strong friendship doesn't need daily conversation or being together. As long as the friendship lives in the heart, true friends never part."
69. "A strong friendship doesn't need daily conversation or being together. As long as the relationship lives in the heart, two friends never part."
70. "A friend is… Someone who loves you cares for you and protects you like family. They know your deepest and hidden secrets, they laugh at your silly jokes and cry with you too… They respect your feelings and always try to make you happy… They see the hidden sadness in your smile and they are always there for you when you're feeling alone… A true friend is the greatest gem."
71. "To make a wish come true, whisper it to a butterfly, upon these wings, it will be granted, for they are the messengers of the great spirit."
72. "My wish for … You when you are down I wish you… Joy. When you are troubled I wish you… Peace. When things are complicated I wish you… Simple beauty. When things are chaotic I wish you… Inner silence. When things look empty I wish you… Hope. When you are lonely I wish you… Love. This is my wish for… you …My friend"
73. "If you ask me how long I'll be your friend? My answer will be, I don't know, 'cause I don't know which one is longer. Forever or always?"
74. "Dearest friend. I wanted to drop by and say hello to my special friend. Thank you, dear friend, for being an important part of my life. Your presence, your thoughtfulness, your kindness, and your sincerity are the most precious gifts of love I have ever received. You are my blessing!"
75. "I'm not open to many people. I'm usually quiet and I don't like attention. So if I like you enough to show you the real me, you must be very special."
76. "Sisters when god made us sisters he wove the fabric of our lives together. He made us kindred spirits and lifetime friends. He gave us hearts that hear each other before a word is spoken. And arms that hold each other through all life's ups and downs. When God made us sisters he wove the fabric of our lives together… so we share each other's happiness and help each other grow. And as we watch the years go by we'll know beyond a doubt – the gift of a special sister is a treasure beyond compare."
77. "A prayer to forgive when you can't forget father, I lay down (person's name) to you. Lord, I'm having a hard time forgiving them. God, I want to forgive, but the pain keeps me from moving forward. But today, I choose to give it to you… the pain, the bitterness, the desire for revenge. I give it all to you. Lord, heal every part of me that is being affected by this situation. I release them to you now. In Jesus' name, amen"
78. "Today I realized, you don't care anymore. And then I realized, you probably never did anyway. And the saddest part of it all is that you made me believe you did."
79. "Good morning a word for someone… Don't you give up? Don't you quit? You keep walking. You keep trying. There is help & happiness ahead… It will be alright in the end. Trust God and believe in good things to come."
Funny friendship quotes
Funny friendship quotes to use for your next Instagram caption for your best friends "I was an innocent being… then my best friend came along." friendship quotes funny sayings "It's hard to find friends who are awesome… So don't lose me."
80. "Friends pick us up when we fall, and if they can't pick us up, they lie down and listen for a while."
81. "You can tell who the strong women are. They are the ones you see building one other up instead of tearing each other down."
82. "Irish Toast there are good ships, & there are wood ships, the ships that sail the sea. But the best ships are friendships, & may they always be."
83. "True friendship isn't about being there when it's convenient; it's about being there when it's not."
84. "Dragonfly signifies a path to new worlds. They are about transformation and a change in perspective, energy, potential, maturity, depth of character, power, and poise. The dragonfly navigates with elegance and grace."
85. "Cousin to cousin we'll always be, special friends from the same family tree."
86. "Sometimes in life, you find a special friend. Someone who changes your life just by being part of it. Someone who makes you laugh until you can't stop. Someone who makes you believe that it is good in the world. Someone who convinces you that there's an unlocked door just waiting for you to open it. This is a forever friendship. When you're down and the world seems dark and empty, your forever friend lifts you in spirit and makes that dark and empty world suddenly seem bright and full. Your forever friend gets you through the hard times, the sad times and the confused times. If you turn and walk away, your forever friend follows. If you lose your way, your forever friend guides you and cheers you on. Your forever friend holds your hand and tells you that everything is going to be okay. And if you find such a friend, you feel happy and complete because you need not worry. You have a forever friend, and forever has no end."
87. " "Best friend" isn't just a name. A best friend is someone who's there for you, no matter what. You can trust them, with anything and everything. Best friends share tears and laughs, almost like their emotions are intertwined. Most importantly, you can always count on a best friend."
88. "Letter from heaven to my dearest family, some things I'd like to say but first of all, to let you know, that I arrived okay. I'm writing this from heaven, here I dwell with God above. Here there's no tears of sadness, just pure eternal love. Please do not be unhappy just because I'm out of sight. Remember that I'm with you every morning, noon and night. That day I had to leave you when my life on earth was through, God picked me up and hugged me and said "I welcome you. It's good to have you back again, you were missed while you were gone. As for your dearest family, they'll be here later on. I needed you here badly, you're part of my plan. There's so much we have to do to help our mortal man." God gave me a list of things that he wished for me to do. And foremost on the list was to watch and care for you. And when you retire to your bed, the day's chores put to flight. God and I are close to you… in the middle of the night. When you think of my life on earth and all those loving years. Because you're only human, they are bound to bring you tears. But do not be afraid to cry, it does relieve the pain. Remember there wouldn't be flowers unless there was some rain. There are many roads ahead of you, many hills to climb. But together we can do it, taking one day at a time. And now I am contented that my life was so worthwhile. Knowing as I passed along the way, I made somebody smile. When you are walking down the road and I am on your mind, I'm walking in your footsteps, only half a step behind. And when it is your time to go on.. from that body to be free, remember you're not going… you're coming here to me."
89. "I will be the gladdest thing under the sun! I will touch a hundred flowers and not pick one."
90. "Notice the people who make an effort to stay in your life."
91. "Friendship is the sweetest form of love. So when I say I'll be your friend 'till the end, it's as good as saying I'll keep you in my heart until its very last beat."
92. "Find friends who aren't too proud to pray for you. To cry for you. To hope for you. To ask God to be one with you. That's what's real."
93. "Heal, learn, grow, love."
94. "Piglet noticed that even though he had a very small heart, it could hold a rather large amount of gratitude."
95. "If you are alone, I'll be your shadow. If you want to cry, I'll be your shoulder. If you are not happy, I'll be your smile. If you need me, I'll always be there."
96. "There are 4 very important words in life: love, honesty, truth, and respect. Without these in your life, you have nothing."
97. "A Christian friend is not an ordinary friend there's a bond of love the world does not know god's spirit plants the seed and makes the friendship grow. Such a friend you've been in prayer, in things you do god's enriched my life and blessed it by a Christian friend like you! I always thank my God as I remember you in my prayers."
Friendship Quotes and sayings
Friendship quotes and sayings "Good friends are like stars. You don't always see them, but you know they're always there." Celebrate those who give you the courage to be a better version of you; friends who would tell you the truth even when a lie would have been easier, they are the best!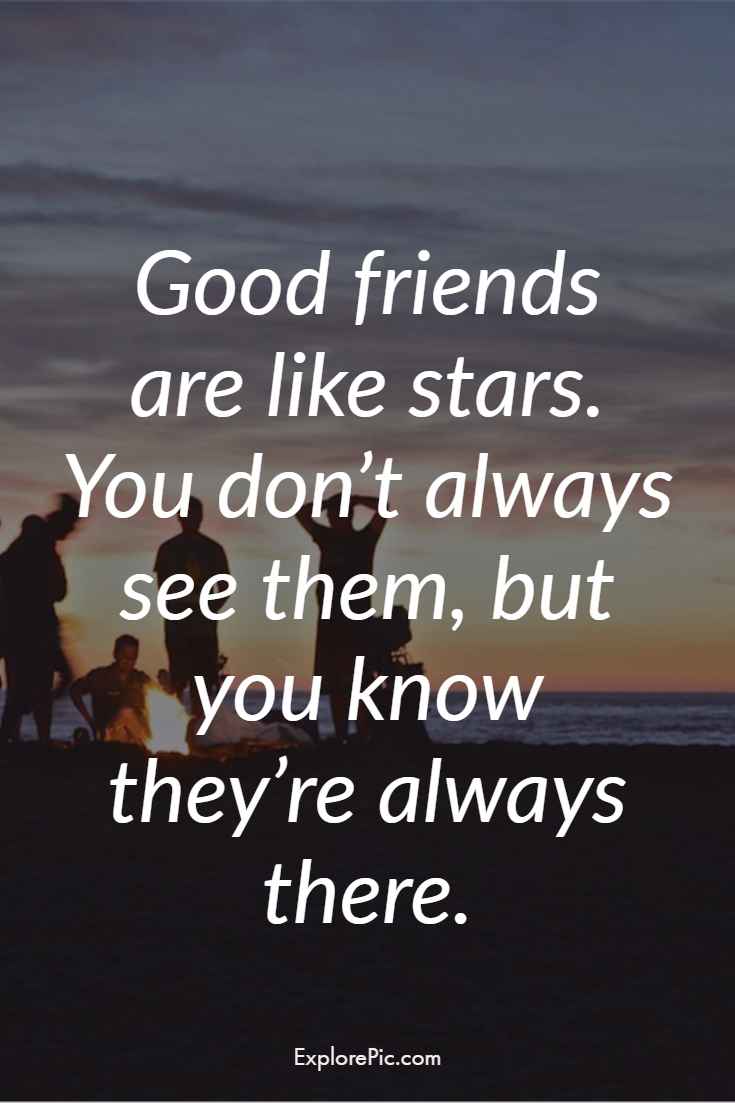 98. "Friendship isn't how you forget, but how you forgive. Not how you listen, but how you understand. Not how you see, but how you feel. Not how you let go, but how you hold on."
99. "Only those who care about you can hear you when you're quiet."
100. "This card contains a special wish although we're miles apart the memories of times we've shared are written in my heart and though I can't be there myself to celebrate your day please know I'm sending all my love and lots of hugs your way you're one of a kind, you're truly unique a rose amongst the thorns you've been such a source of delight in our lives since the day that you were born and so it's with joy, 'cause you mean so much we celebrate today the person you are and the one you'll become loved more than words can say today it's time to turn the page a new chapter to unfold places to go and sights see adventures yet untold so let us celebrate today the years ahead to share the vibrant life, such love and joy that's waiting for you there today's an opportunity to show how much we care how much you mean to all of us a friend beyond compare your special place in our hearts has grown over the years we raise a glass & toast to you happy birthday! Cheers! A birthday comes but once a year a day for you, a day of cheer the reason that we toast a glass to a year well lived and time went past today it's you we celebrate your kindness we appreciate so seize the future, wake it bright we wish you luck, joy and delight may this year bring happiness success in all you do and may your future days be bright and filled with dreams come true may your birthday overflow with all your favourite things and may your spirit be renewed by all the new year brings"
101. "Rare people there are many people that we meet in our lives but only a very few will make a lasting impression on our minds and hearts these people will always listen and talk to you they will care about your happiness and well-being they will like you for who you are and they will support you at all times I am fortunate to have you for my true friend."
102. "You are special don't ever forget it!"
103. "You've all been a blessing right from the start. I love my children with all my heart."
104. "Hate no one, no matter how much they've wronged you. Live humbly, no matter how wealthy you become. Think positively, no matter how hard life is. Give much, even if you've been given little. Forgive all, especially yourself. And never stop praying for the best for everyone."
105. "Life is kind of like a party. You invite a lot of people, some leave early, some stay all night, some laugh with you, some laugh at you, and some show up late. But in the end, after the fun, there are a few who stay to help you clean up the mess. And most of the time, they aren't even the ones who made the mess. These people are your true friends in life. They are the only ones who matter."
106. "Good friends help you to find important things when you have lost them… your smile, your hope, and your courage."
107. "A precious love what other way is there to profess my love? I've gone on my knees and thanked the heavens above for you are my most precious and sacred treasure a woman whose beauty knows no measure your love is such an indescribable blessing it's rather wondrous and completely amazing each day I share with you is a wonderful surprise I can spend an eternity just staring into your eyes"
108. "Life was meant for good friends and great adventures."
109. "If you need me, call me. I don't care if I'm sleeping, if I'm having my problems or if I'm angry at you. If you need me and if you need to talk to me, I'll always be there for you, no matter how big or how small your problem is, I'll be there."
110. "If a person wants to be a part of your life, they will make an obvious effort to do so. Think twice before reserving a space in your heart for people who do not make an effort to stay."
111. "The longer you wait for something. The more you appreciate it when you get it. Because anything worth having is always worth the wait."
112. "I regret opening up to some people; they didn't deserve to know me like that."
113. "Wonderful wacky words to we are best friends forever you're my biggest critic, head cheerleader, and favorite sounding board all rolled into one we are companions and confidantes you are someone whose loyalty I never question and whose trust is forever true listening is an art form you have truly perfected you always know what I need even if it's a good, swift kick! We cling to each other in times of trouble, rejoice in times of joy, and laugh ourselves silly until tears roll down our cheeks when life becomes a roller coaster, we climb in the front seat, throw our arms in the air, and enjoy the ride together anyone who says she doesn't need a girlfriend, just hasn't found a good one yet we are kindred spirits… soul sisters… two wonderful wacky women. We are BFF best friends forever"
114. "So many friendships ended just because we stopped texting them first."
115. "I don't know why we drifted apart but we did and I regret it I want us to be friends again, the way we used to. I want us to stay up all night talking about what's on our heart because no one can make me feel as comfortable as you and no one has won my trust, the way you still do."
116. "Close friends are truly life's treasures. Sometimes they know us better than we know ourselves. With gentle honesty, they are there to guide and support us, to share our laughter and our tears. Their presence reminds us that we are never really alone."
117. "Just because I haven't said anything doesn't mean I don't know."
Read More
Friendship Pictures Quotes & Images
Find for the best friendship pictures quotes, photos & images? ExplorePic's pictures can be shared on Facebook, Tumblr, Pinterest, Twitter, and blogs.